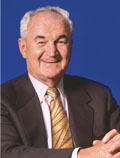 Joseph E. Corcoran
CHAIRMAN

Joseph Corcoran founded the Corcoran Jennison Companies in 1973 and now serves as Chairman.
Corcoran Jennison Companies, under Mr. Corcoran's leadership, pioneered the concept of mixed-income
housing. A 1959 graduate of Boston College, Mr. Corcoran was Chairman of the Board of Registration
of Real Estate Brokers and Salesmen for the Commonwealth of Massachusetts from 1971 to 1975.
Currently he is a member of the Urban Land Institute and the National Association of Home Builders. He
founded the American City Coalition, a non-profit organization that plans and implements the revitalization
of urban neighborhoods. Mr. Corcoran serves on the Board of the Landscape Architecture Foundation,
the Children's Advocacy Center of Suffolk County, and the YMCA of Greater Boston. Mr. Corcoran is a
member of the Board of Trustees of Boston College and is a Director of the American Ireland Fund.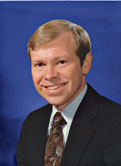 Gary A. Jennison
VICE CHAIRMAN

Gary Jennison has been with the firm since its inception, and serves as Vice Chairman of the Corcoran
Jennison Companies. Mr. Jennison has served on the Board of Directors of the National Housing
Rehabilitation Association, Greater Boston Rental Housing Association, the Quincy Savings Bank, and is
a Life Director of the National Association of Home Builders. He also served as President of the Builders
Association of Greater Boston and was named "Builder of the Year" in 1984. He has also served on
Boston's Private Industry Council to assist local public schools in enhancing education programs and on
committees of The United Way and the National Conference for Community and Justice. Mr. Jennison
was appointed by the Governor to the Task Force on Private Affordable Housing Production, which
successfully authored significant housing legislation, and was a member of the Blue Ribbon Task Force
to create affordable housing. He has spoken before national and local groups on the subject of housing,
and has lectured at several colleges on real estate development and construction. Mr. Jennison is a
former Trustee and Chairman of the Board of Bentley College, from which he graduated and holds art
Honorary Doctorate Degree, he also holds a Masters Degree from the University of Massachusetts.